As dental and dental specialists expand the types and level of services they provide to their patients, they often look for ways to help streamline their practice workflow and improve patient care. Some of the more recent technological advancements in dental CBCT and intraoral scanning, plus the ability to merge the two dental imaging technologies together, can help practitioners realize even greater efficiency, productivity, and patient satisfaction.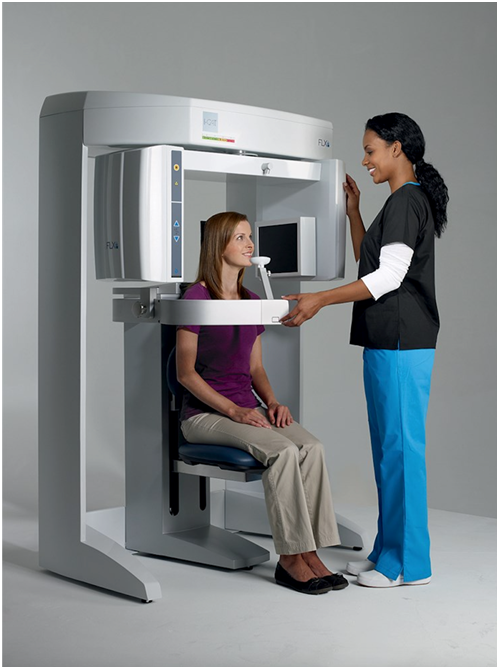 Barriers to Dental Cone Beam Adoption
Despite the widespread availability and technological advantages of dental cone beam systems, many dental professionals have not yet embraced dental CBCT for their practices for a variety of reasons. Some dentists are afraid of change, of learning new equipment and software, and disrupting staff workflows by introducing new technology. Other concerns may include the fear of additional radiation exposure to patients and staff or the cost of practice construction changes needed to accommodate a dental cone beam system from a regulatory perspective. The most common reason that so many practices have not yet invested in a dental cone beam computed tomography (CBCT) system, however, is the high initial investment. Depending on the manufacturer, model and desired features, a new dental cone beam CT system can cost the average dental practice up to $100,000 dollars or more.
Renew Digital offers premium, high-quality dental CBCT systems for up to 50% off the list price of new equipment. This significant savings allows dentists and dental specialists to implement dental CBCT much more affordably with a higher and faster return on investment. Because the company delivers expert project management, installation, training, warranty, and unlimited support with every cone beam ct purchase, you can enjoy a very positive transition for you and your staff.
Easy Intraoral Scanner Transition
In contrast to dental cone beam imaging systems, intraoral scanners are extremely easy to add to a dental or dental specialty practice. First and foremost, intraoral scanners are far less expensive than dental CBCT and are a welcome change to traditional impressions, particularly their mess and the time it takes to complete the process. They instantly provide benefits such as improved practice efficiency, less storage space vs. plaster models, and a much better visualization of dental conditions and possible treatments for both staff and patients alike.
In addition, intraoral scanners don't require the use of radiation and will not require a dental practice to undertake any construction modifications to use them. They are compact, portable, and easy to store and use. You may even find that you may want to add more than one intraoral scanner to your practice for added flexibility!
In addition to extraoral imaging systems, Renew Digital now also offers certified pre-owned intraoral scanners at up to 30-50% off new list prices. Intraoral scanner purchases from Renew Digital include a laptop*, accessories, training, and unlimited support for total peace of mind.
Combining Dental Cone Beam and Intraoral Scans
Dental cone beam computed tomography, or dental CBCT, provides exceptional visualization of dental and craniofacial anatomy in 3 dimensions and is useful for many different dental applications including dental implant placement and planning, endodontics, orthodontic treatment, oral and maxillofacial surgery, and much more. However, dental cone beam scans lack the ability to capture the surface details of teeth and surrounding structures required for restorations, prosthetics, and other dental treatments and devices. Fortunately, intraoral scanners can provide highly detailed and accurate images of these anatomical structures, closing this digital diagnostic and treatment planning gap.
The fact that proprietary software** has been developed that enables data from different sources to be merged has significantly improved the diagnostic and treatment planning process when using dental cone beam and intraoral scanning together. Advances in software technology have now made it possible to merge the digital data set from an intraoral scan with a CBCT scan. Once combined, the surface detail from an intraoral scan can be incorporated with the CBCT image into the treatment planning software, allowing for increased accuracy and efficiency when diagnosing dental conditions and planning for restorative treatment.
The software can also be manipulated to provide a variety of different views. For example, investigating the underlying projected placement of the simulated implants with certain layers removed to give a more precise impression of the implant's location in relationship to the natural tooth roots.
How They Work Together
To merge the functionality of intraoral and CBCT scans, the dental staff member must first capture a CBCT scan of the patient using a typical dental cone beam workflow. Then, they must capture an intraoral scan of the same patient. Both scans should only take a few minutes to complete. Once captured, the individual scans are imported into the software and registered for accuracy. Once they are digitally ready in the software, the dentist can examine the scans separately or combined together in order to provide a higher level of diagnostic accuracy and more complete, precise treatment planning.
By merging these two functionalities, it's possible for dental professionals to plan the course of treatment from start to finish, all in one appointment, with only two scans. Plus, merging intraoral and CBCT scans can not only improve diagnoses, but it can also enhance visualization, making the images a useful patient and referral communication tool, as well.
Save up to 30% to 50% With Renew Digital
Dental professionals interested in providing a higher level of patient care and improved treatment planning by merging the functionalities of dental cone beam and intraoral scanning can save up to 30% to 50% off the price of new systems with Renew Digital.
Renew Digital, the recognized leader in used dental imaging for over a decade, offers current and recent-model used dental imaging systems from industry-leading brands at significant savings over the cost of new dental equipment. These savings, combined with unbeatable quality, makes owning premium dental CBCT systems and intraoral scanners more affordable than ever before.
Renew Digital's low dental CBCT prices include installation and training for you and your staff, a comprehensive replacement parts and onsite labor warranty, as well as unlimited support from our 5-star rated help desk. Most of our intraoral scanners, including the Medit i500, come complete with a laptop, training, unlimited support and a full repair or replacement warranty.
To learn more about our available certified pre-owned dental cone beam and intraoral scanner systems, as well as get up-to-date pricing, contact Renew Digital at 888-246-5611 or via our online contact form today. Our knowledgeable, expert Sales team is here to help find the dental imaging product(s) that best fit the needs of your practice and budget!
*Select models only
**Additional software purchase may be required