One of the latest dental technological advancements is the introduction of robotic assistance devices to facilitate dental implant placement and other surgical applications. These robotic systems assist dentists and dental specialists during surgery by guiding the practitioner through the procedure precisely according to the treatment plan. Surgical robots do not perform the actual surgery; however, they offer accuracy and stabilitywhile allowing the dental professional to maintain control.
Robotic surgical guidance and assistance devices have been in use for medical surgical procedures since the late 1980's when they were introduced for use in prosthetic hip replacement. Since then, they have been used for a wide variety of medical surgeries and have become the standard of care for many medical specialties and applications including but not limited to neurosurgery, otolaryngology, urology, cardiology, endoscopy, and orthopedics. In fact, they are used to treat more than 1 million patients every year.
Two of the most prominently used dental robotic guidance systems are Yomi and X-Guide. Yomi by Neocis, Inc. was approved by the FDA to assist with dental implant surgery. X-Guide from X-Nav Technologies, LLC, is also approved by the FDA for navigated dental implant surgery.
Patients benefit from dental robotic assisted devices by facilitating same-day surgeries and/or implant placements, less invasive procedures with smaller incisions and fewer sutures, and faster recovery and healing times. Dentists and dental specialists benefit by allowing more comprehensive and collaborative digital treatment planning, greater precision and accuracy, enhanced surgical efficiency, and more predictable surgical outcomes.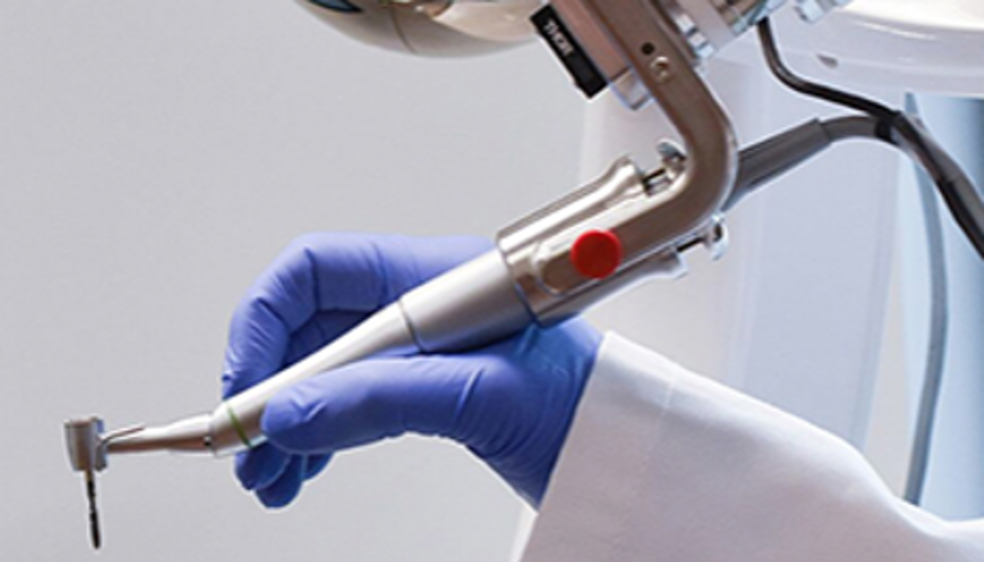 How They Work
Dental robotic assistance devices integrate with modern dental imaging technology. They work by first importing a DICOM file from compatible dental CBCT or STL file from compatible intraoral scanners into the device's integrated planning software. The surgical treatment and/or prosthetics are then planned within the software.
Before surgery, an intraoral splint is affixed to the patient's dentition near the surgical site, providing a fixed locationfrom which the patient DICOM file is registered to the robotic system.To ensure accuracy, a landmark point on the virtual plan is verified by placing the drill tip on the selected anatomical landmark.
The device's robotic arm holds and stabilizes the surgical handpiece and guides the dental practitioner throughout the procedure, allowing them to make dynamic adjustments as needed. When the dentist moves the drill according to the treatment plan, the robotic guidance arm allows the motion, but if they deviate from the plan, the robot guidance arm resists. When the handpiece achieves the precise angulation and depth, the robot delivers a "hard stop," ensuring exact surgical precision. Throughout the surgery, the practitioner maintains real time visualization of the handpiece, patient and surgical progress on a monitor for visual confirmation and complete clinical control.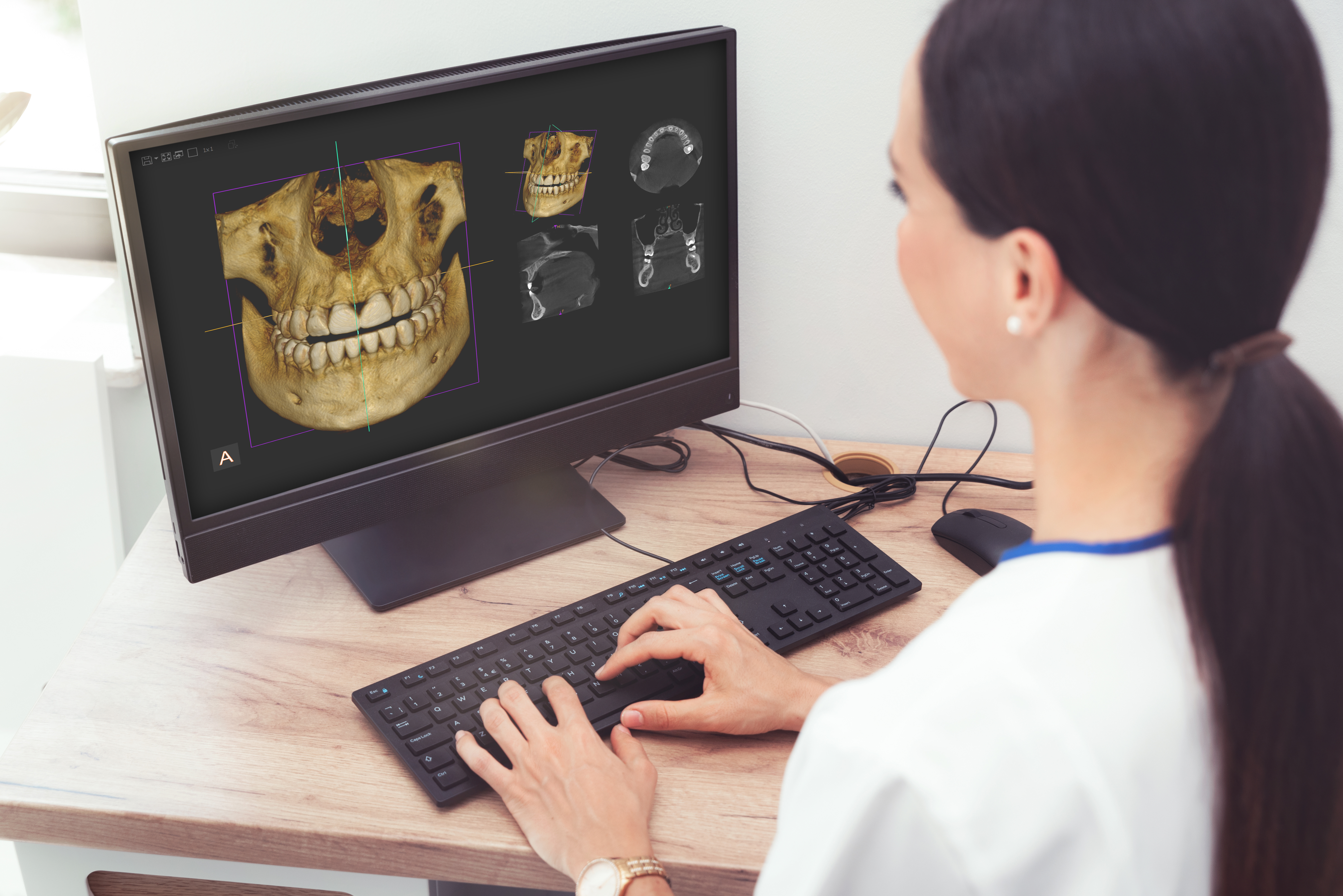 Affordable Dental CBCT Options
If you have researched the possible addition of a dental robotic assistance device to your practice, you probably already know that this leading technology can be very expensive. In addition, unless you already have one in place, you will need to purchase a compatible dental CBCT system to support the robotic device. One way you can help realize a more expedient return on investment is to purchase a compatible used dental cone beam system from Renew Digital rather than buying new equipment.
Certified pre-owned dental cone beam systems from Renew Digital can save practices 30-50% off the cost of nearly equivalent new dental CBCT machines. This savings can allow you to contribute more capital toward the robotic device, improving your bottom line. For added value, our low prices include installation, training, and a comprehensive full replacement parts and onsite service warranty.
Because all our dental cone beam scanners are tested and retested against manufacturers' specifications and professionally installed by our own trained equipment specialists, you don't have to worry about quality and ongoing reliability. Look at just some of our 5-star online reviews to find out what other customers have to say about Renew Digital's products and services.
Renew Digital offers a wide range of used dental CBCT systems that have been tested to be 100% compatible with leading robotic assistance systems such as Yomi and X-Guide. Compatible used dental cone beam systems typically offered by Renew Digital include i-CAT FLX V17, i-CAT FLX MV, i-CAT Next Generation, i-CAT Precise, KaVo OP 3D Pro, Instrumentarium OP300 Maxio, and Vatech PaX-i Green CT.
Contact Renew Digital
Contact Renew Digital online or call 888-246-5611 to learn more about our compatible used dental CBCTmachines, as well as up to date inventory and pricing. Our knowledgeable sales team is happy to answer any compatibility questions and guide you towards the best used dental cone beam system for you and your practice.